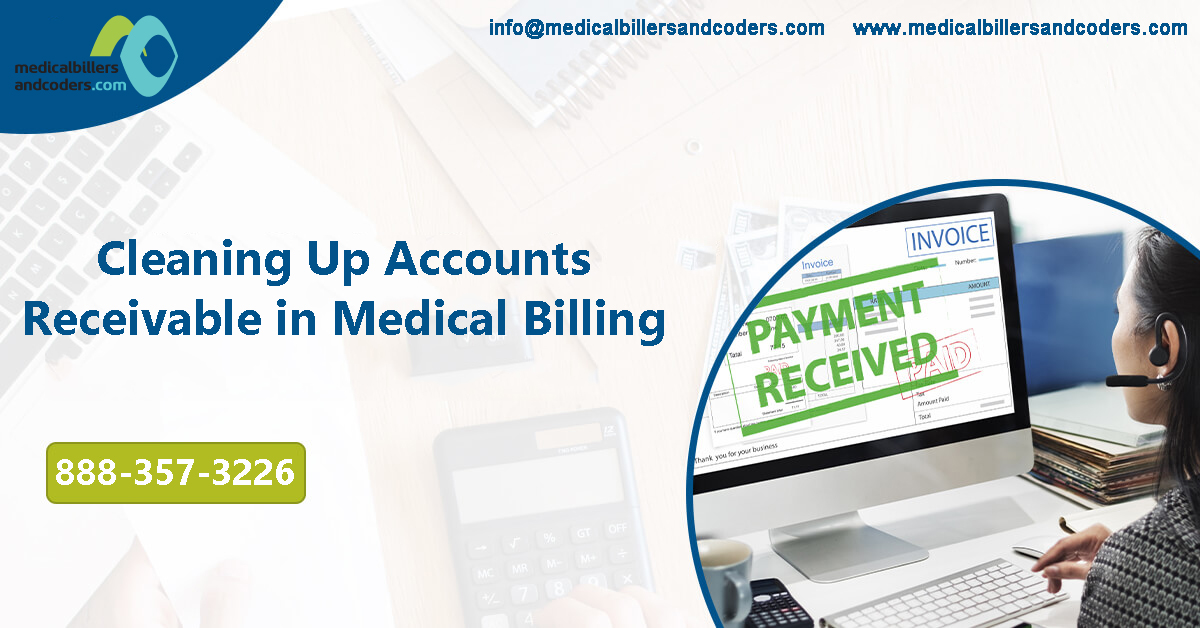 Even if your accounts receivable backlog is made up of low-balance accounts, you don't want them to linger. These seemingly low-priority claims can add up and become a bigger issue. Given the number of high-priority accounts constantly on your plate, you can't afford to allow a small collection of low balances to grow, which could ultimately require far too much time and resources to manage. The problem with accounts receivable is, they don't go away, they stack up and eventually become unmanageable. With so many revenue cycle operations to handle, cleaning up accounts receivable can be challenging. In this article, we shared three ways that will help you in cleaning up accounts receivable for your practice.
Reducing AR Days and Improving the Heath Care Collections
Cleaning Up Accounts Receivable
Get Rid of Old Data
The best place to start in cleaning up accounts receivables: update old patient data on priority. The amount of patient data in your systems can be staggering, and if you are not keeping up-to-date, it can easily get outdated and out of control. It's not enough to have your front desk staff collect billing and demographic data from new patients. Have your front desk staff ask visitors to verify their patient information and insurance card data at every visit and update your system immediately.
Once your process is revamped, take a deep dive into your data to see what you can get rid of. You don't need to retain the data of patients who have long ago left your practice, purge what you can, then perform some comparison checking between your balances and your data to get a handle on what may or may not get collected. Are you waiting on a missed co-pay from a deceased patient or a vaccine reimbursement from a now-defunct payer? It might be financially worthwhile to just wipe those small balances from the books as losses, rather than put a wealth of time, money, and effort into continually billing for them.
Focus on Recurring Patients
This one may seem obvious, but in many practices, patients with payment balances are frequently let off the hook from coughing up at the time of visit. Even if they're asked to pay at the end of the encounter, their requests to just receive the bill in the mail oftentimes win out. That can allow patients to accumulate aged balances that just get bigger and bigger as the patients continue to come in for care. Getting your A/R in order requires that you collect these existing balances on the date of service and eliminate them from your to-do list. But how should you go about it?
Your front desk attendants are your patients' first point of contact with your practice and your best allies in this aspect of collections, so give them the notice and advanced tools they need to procure payment on the day of a patient's appointment. Develop a system in which your administrators check the next day's appointments for existing balances before making reminder calls or sending confirmation emails. In those communications, notify patients with outstanding balances that they will be expected to surrender payment as soon as they arrive. When the patient arrives, staff should be firm about payment requirements and escalate the situation to a billing department rep or manager if a delinquent-payment patient refuses to pony up. Delineate specific policies regarding outstanding balances and provide staffers with adequate training to keep your inflow of cash from being stalled.
Keep Track of Collections
After following the above two steps, you need to make sure you continue to keep things clean by doing the proper reporting. Failure to analyze collection performance can be a major headache. Too often your staff is focused on getting the billing off their desks and the claims submitted, but have little time to follow up on receivables, analyze the practice's financial performance, and improve collections. It's critical to perform upkeep on your enhanced collections process by using the analytics capabilities of your practice management system to monitor accounts receivable effectiveness.
Use your reporting capabilities to delineate the remaining areas of weakness in accounts receivables. Are you performing exceptionally when it comes to patient collections but still being stunted by a high percentage of denials or a low first-pass resolution rate? Weekly analysis of your collection backlog and monthly review of outstanding accounts receivables along with other reports will elucidate problematic trends. Once you know what areas to focus on, you can give proper attention to perfecting your performance in those areas. Plus, continued monitoring is the only way to ensure you keep things orderly in accounts receivable. With effective reporting and analysis, you won't need to do a clean sweep of AR overhaul, you'll be able to maintain cash flow by consistently reviewing your processes and performance.
Outsource your Account Receivable Follow-ups to MBC
MedicalBillersandCoders (MBC) understand how insurance companies adjudicate their claims and strategize our follow-up accordingly. Our experienced follow-up staff analyzes and ensures your old claims are paid quickly. Our AR experts categorize the outstanding claims based on AR days and type of insurances. We start our follow up and based on the outcome of the calls we appeal, re-bill, and send additional documents. To know more about our accounts receivable services contact us at info@medicalbillersandcoders.com/ 888-357-3226
---
Published By -
Medical Billers and Coders
Published Date -
Oct-27-2021
Back