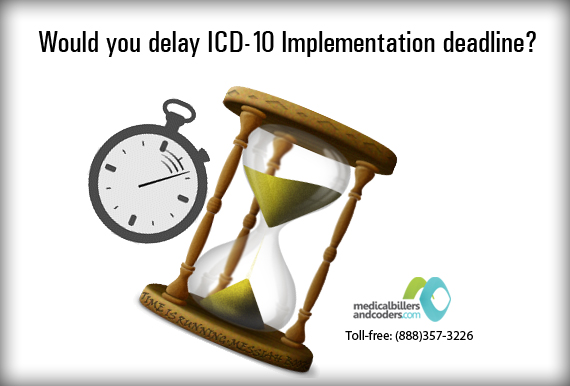 Change is disruptive, but need not be destructive. In the medical world, in order to capture the changing patterns of disease, the coded forms need an upgrade so as to keep medical diagnosis, technology, and treatment in sync with each other for the betterment of the patients. But, as the date of implementation of the ICD-10 deadline, Oct 01 2015, draws near, every health care organization is waiting with bated breath- will it be delayed once again? Since the ICD-10 is a HIPAA code set requirement, physicians as well as all health care providers/vendors have to comply with it. The ICD-10 implementation has been delayed twice already. Critics do opine that there could be a third deferral. The ICD-10 will affect medical practices, billing companies, and other industry professionals connected with the entire US healthcare. In order to have an effective ICD-10 implementation, health organizations along with its network of professionals need to be prepared.
The ICD-10 brings with it an increased number of codes, change in number of characters per code, and an increase in code specificity. All this requires greater planning, training, software, system upgrades/replacements, and a host of other investments. You may ask yourself – Is this really needed and necessary? Has the Acknowledgement Testing conducted by the Centers for Medicare & Medicaid Services (CMS) found to be acceptable along with the smooth process for claims?
Why is change from ICD-9 to ICD-10 so crucial? One major reason is its outdated technology to help report changes in disease classification. Given the changing disease patterns today, the old system can no longer accommodate the documentation of such change which will reflect the advances in medical technology and knowledge.
Against this background, the transition to the ICD-10 system seems inevitable and acknowledging its advantages is important. Both, physician and patient, benefit in terms of knowledge and treatment, respectively. Delaying the inevitable is just procrastinating. Given that the implementation has already been delayed twice, by now, all small as well as big health care systems and their "providers" should have prepared for it as it will benefit all. Yes, in the short term, revenues will take a hit- investment in training programs, for coders will have to be conducted, billing and clearing houses will have to gear up with new software and systems – but this gigantic overhaul after 30 years, will be worth it. There will be hiccups, mistakes, risks, but remedial measures are already being put in place and a host of documents and hand holding information has already been disseminated- so why delay something that brings better treatment and more knowledge, even if the transitory steps are tedious? After careful weighing of the pros and cons of the system is delay of the ICD-10 required? Change is inevitable- embrace it!