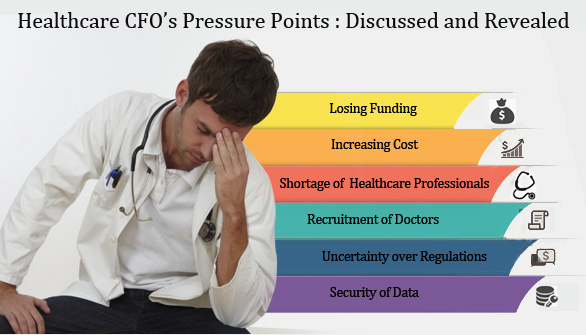 The healthcare industry, as any other sphere of business, is also fraught with new challenges that come to the fore each day. This brings about tremendous pressure for the health care personnel involved and a CFO also goes under the knife at such times in terms of dealing with operational, regulatory as well as strategic issues. In smaller facilities or hospitals especially, CFOs have a limited margin for committing errors and therein comes the actual test as reported by Becker's Hospital Review.
A few of the pressure points almost every CFO has to bear through are commercial payers' pressure, losing funding from federal parties, recruitment of doctors in case of a shortage, Medicaid reforms, shortage of nurses and other healthcare professionals. But then, all of these are necessary for any healthcare facility or hospital to survive over any fiscal difficulty. In fact, these issues are faced by almost each and every healthcare operator in the States.
As per revelations by a number of surveys, a lot of other concerns afflict CFOs. A few of these are security of data, non-availability of talent, the huge amount of costs involved, uncertainty over regulations and so on. In addition to that, some HR personnel of healthcare facilities point out indifference of CFOs towards the employee's welfare. While there is no truth in claims that CFOs are unconcerned about anything else; it is just that at the end of the day they have to speak in terms of profit to their CEO or reporting authorities.
Apart from the above mentioned scenario, CFOs also at times face challenges in terms of changing roles and responsibilities due to lack of appropriate information in their hands. Besides that, there is also a difference in terms of rural and urban scenarios.
A shift to value-based payments is the call of the hour for CFOs. Another new trend that has caught up over the last few years is the huge investment into IT. No doubt it is great to have an IT infrastructure to run the facility; a lot of money has to be put in for its care and maintenance. This, of course, would prove to be beneficial in the long run as the data collected can be collated for other purposes.
All said and done, at the end of the day, the CFO's role doesn't just boil down to handling finances but also involves a lot more about business decisions, operations and strategy. That also speaks for the huge amount of risk involved in the position and why she is needed for any decision involving the healthcare facility.