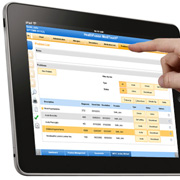 EHR for your orthopaedic practice can prove beneficial in improving safety of patients, reducing costs, enhancing clinical efficiency and giving sufficient time to you for quality patient care.
Why your orthopaedic practice needs an EHR?
You will need a quality EHR that can keep pace because, when compared with other specialities, orthopaedic practices see a high volume of patients
EHR will help you align your practice with Meaningful Use incentive programs and various other regulatory initiatives for future such as subsequent stages of MU, quality reporting and Accountable Care Organizations (ACOs)
It will help you access multiple open charts at once, enabling you to move quickly between patients
You will be able to use encounter note templates, customized for the spine, major joint and physical therapy evaluations to streamline
documentation
A quality EHR will help you capture values for pain scales and record measurements for range of motion
It will help you enhance inter-office communication, particularly if you offer diagnostic capabilities like MRI, X-ray and CT
The EHR alerts and health reminders can be used by you for preventive treatments
With an effective EHR for your orthopaedic practice, you can add, change or renew medications
According to the American Academy of Orthopaedic Surgeons (AAOS), well-designed and affordable EHRs should be adopted by all orthopaedic practices. The EHR should not only enhance productivity at the practice but also make ICD-10 implementation easy. When implemented correctly, EHR can save time and money for orthopaedic practices; however, providers need to be extra careful about the challenges in implementation.
How can a poorly-designed EHR affect your practice?
In case you spend money on a poorly designed EHR for your orthopaedic practice and fail to implement it in the right manner, it will be of no use. A poorly designed EHR will reduce the number of patient appointments, affecting access to care. It will also adversely affect the workflow of orthopaedic practices and reduce the chances of becoming eligible for incentive payments that are given to physicians for adopting meaningful use of EHR systems.
Cost of EHR implementation can also prove to be overwhelming for some orthopaedic practices. At a time when practices are dealing with pressures of healthcare reforms, investment of time and money in selection, implementation and training for EHR system can prove to be daunting for providers. To enhance workflow and avoid steep penalties after 2015, many orthopaedic practices are seeking help from a billing partner.
Physicians are opting for billing partners like Medicalbillersandcoders.com that offer effective EHR consultancy to practices across 50 states in the US. MBC has alliance with some of the leading EHR vendors who offer assistance to orthopaedic practices in smooth and successful implementation of the system. We have a skilled team of billers and coders who will ensure timely claim submission, HIPAA compliance and maximum revenue generation for orthopaedic practices apart from fulfilling EHR requirements. While the team at MBC handles your revenue cycle management, you can use the spare time to concentrate on patient care.