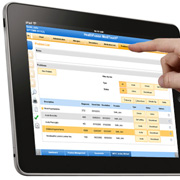 Electronic Medical Record (EMR) services or Electronic Medical Services are the need of the hour. They are much superior to the traditional paper-recording practices which were prone to errors and limitations. EMR ensures that entire billing is managed electronically in a faster, systematic and professional way. This data is accessible to many people at the same time and thus this is a much more reliable method for hospitals today to adopt. Most healthcare units these days are outsourcing these services as it has its own benefits:
This complex software collates and analyses data of various departments of the organization, hence it requires expert and trained staff to set it up. It helps if there is a partner roped in to help you manage these services at the back end as the medical staff is engaged in more productive procedures related with to facility.
EMR can bring in greater efficiencies and result in increased revenues as all the critical information is available at the click of the button. It covers billing records, patient appointments and even medical updates; all of it is consolidated in a user friendly way, which really affects productivity.
Putting administrative burden off doctors and medical staff goes a long way in keeping employees satisfied. Outsourcing these services will make the experts do this task and bring to the table of each staff, only relevant information of their particular department. On the other end patients too are benefited as their reports, visits and follow-ups are all available on an electronic medium which can be accessed from anywhere.
Staying abreast with the latest developments in the affiliated industries is a tedious yet important task. Outsourcing can help you be assured that the experts are constantly upgrading codes to the EMR software and that will help remove delays and inefficiencies.