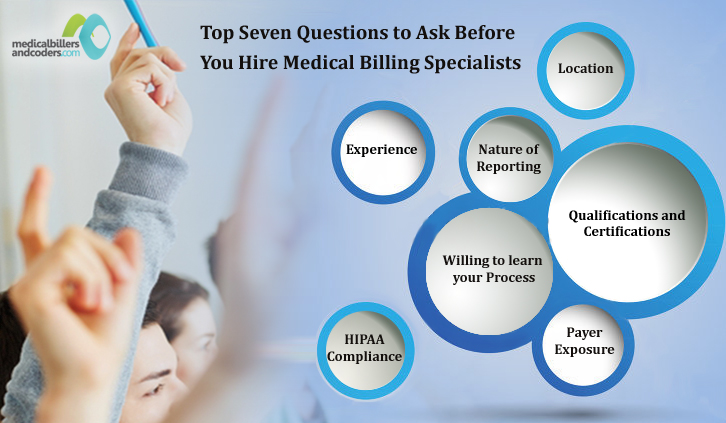 You may think that hiring the services of a medical billing specialist will be like adding extra costs to your practice. But actually, hiring the services of a medical billing specialist can be considered as one of the smartest moves on your part in terms expanding your business.
Think about the ways you can be benefited by them. Your already overworked staff won't have to spend a large amount of their time at the copy machine because a majority of the records can be handled online, with the use of secure and encrypted technology. Medical billing specialists will ensure that the claims are properly coded and submitted in time. Your staff doesn't have to face any interruptions with patients queries as those will be handled by these specialists. More over their style of developing Patient Statement barely leaves scope for queries.
But one can refer to a few things before hiring medical billing specialists. The top most questions to ask before hiring a medical billing specialist may include:
1. Qualifications and Certifications:
The most important requirement in terms of hiring a medical billing specialist is perhaps his/her qualification. Medical billing certifications are a necessary yardstick to determine whether a medical biller is qualified to take up the job. CPC, CPC-H, CCS-P, CCS, RCC, and OTR are some of the exams which can get a biller approved for Medical billing processes.
2. Experience:
Medical billers nowadays possess experience in a number of specialties. Before hiring a particular biller, ask if he/she has experience in your particular specialty, has understanding of applicable coding subtleties and questioning them about their style of payer follow up can be a good idea, most payers these days are keen on IVR communication, with which Billers must be familiar. Besides, they should also be able to come up with resolutions in case of claim rejection.
3. Location:
Medical billers and coders can be contacted from far and wide, in this day and age of electronic claim submission, physician offices also prefer home-based professionals. But some practices prefer local billers as they believe that local billers are more aware of the billing regulations of the state. But wherever they are located make sure that you don't have to compromise on quality.
4. HIPAA Compliance:
Compliance to HIPAA regulations should be of top priority in order to ensure safety of PHI (Patient Health Information). Most medical billers claim to have adequate knowledge without really knowing the consequence of violation of HIPAA. So before hiring a medical biller , a clinic must verify the seriousness of the candidate towards information handling and avoid any leakage of crucial information.
5. Willing to learn your process:
Your medical billing specialist should be open to learn your style of operations. A medical billing specialist should be able to explain the various steps involved in medical billing as well as explain what steps they can take to meet your specific requirements. Hesitant Billers who avoid making concrete promises may create trouble for you in the long run, it is best to avoid them.
6. Payer exposure:
Denial rates and reasons vary amongst different payers. Careful scrutiny of the contract is necessary to understand the implications of various terms, rates as well as conditions given in the agreement thus saving you from some untoward surprises which you may have to face later on. Your Biller must be aware of the fee schedules and payer contracts for your specific specialty, they could help you improve your collections tremendously.
7. Nature of Reporting:
Being aware of the reporting pattern of your biller, may be a good idea. In general, reports are usually generated on a monthly basis but you can request them to develop special reports for your special needs. Financial Reports are the main tool to judge a billers performance, these reports can help you to enhance your productivity as well as fix problems.
These criteria are an important way to determine the authenticity of the concerned medical billing specialist which every physician or practice must ask before hiring . Now hiring genuine billers will not be a problem for anymore. The largest consortium of Medical Billers and Coders – medicalbillersandcoders.com can help you to select the biller of your choice. Stretched from Anchorage in Alaska to Honolulu in Hawaii and from Port Orford, Oregon in the west to Boston, Massachusetts in the east, this consortium is the ultimate representation of hundreds of skilled billers with experience in different specialties and updated about the latest technology.
Thus making it the one stop solution for all your medical billing specialist requirements as they have in-house billers, home-based billers and Medical Billing company all under the same group. You can choose as per your need.