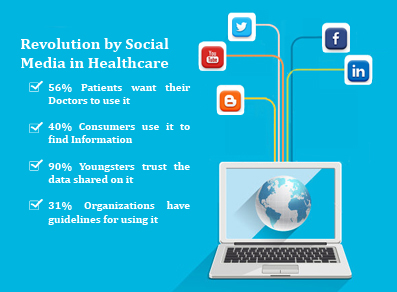 Healthcare professionals in the US have rapidly adopted social media. They are using this platform to connect with patients, provide health education, gather information and spread awareness about new advancements in medicine.
Social media websites have transformed how medical information is shared and transferred. By using this platform for educational purposes physicians have been able to improve patient care, share knowledge and increase awareness for a certain field of medicine.
Social media has revolutionized the healthcare industry to a great extent. Not only doctors but patients have also been active on sites like Facebook, Twitter and LinkedIn. They have been using this medium to find health-related information, interact with doctors and find support through forums and discussion groups. This has helped facilitate communication between patients and providers.
According to a survey conducted on patients of an outpatient family practice clinic, 56% patient wanted their providers to use social media sites like Twitter or Facebook to set appointments or reminders, report diagnostic test results, share health information, give prescription notifications and answer general questions related to health
As per a MediaBistro survey, more than 40% consumers say that the information found on social media affects the way they deal with their health
According to Search Engine Watch, 90% respondents between the age group of 18-24 years said they don't mind trusting health-related information that is shared by others on their social media networks
According to Institute for Health, approximately 31% of healthcare organizations have social media guidelines in writing so that everyone at the hospital or practice is on the same page
Healthcare providers are exploring social media for networking with trainees and colleagues. They are also using it for disseminating their researches, engaging in health-related discussions and for marketing their practice. With a growing percentage of people using digital tools for health maintenance, social media platform has become popular among providers to engage users. According to a survey, social media affects the choice of a healthcare provider for many people.
It is being used by private practices, hospitals as well as billing companies such as MedicalBillersandCoders.com. MBC is the largest consortium of coders and billers in the US, helping providers sail through revenue challenges. The company has a growing presence in social media. Websites like Facebook and Twitter are being used by MBC to share health-related information, answer queries, post jobs and interact with existing as well as potential clients.
Challenges Posed by Social Media for Healthcare Industry
Participation of medical students and doctors has increased on social media platforms. However, according to various media reports, studies or legal cases, usage of websites like Facebook, Twitter can pose risks for medical professionals. In case of inappropriate online behaviour, social media can potentially damage a doctor's personal integrity, future employment opportunities and relation with patients or colleagues. Therefore, it has become important for healthcare organizations to create practical guidelines to help doctors or medical students maintain professional standards while enjoying social media.